I logged into Gmail this morning and found a new thing. I saw "Call Phone" in my contact list.
When I click on it, I saw the gmail chat window appearing and it was a phone dialer. There was a link in the dialer saying I need to install the plugin of Google voice. I did it Restarted the browser, logged into Gmail again, and now after clicking on "Call Phone" I saw the dialer and dialed a Canadian number and talked to a senior brother of mine. The voice quality was even better than that of direct phone call and there was no lag.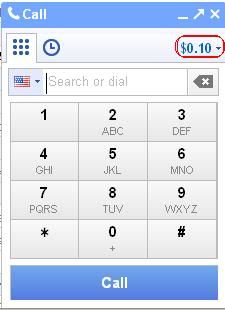 You can make unlimited free phone calls to USA and Canada. You can even call other countries with a nominal call rate. Moreover your account comes with $.10 credit free of cost so that you can make a test call to other countries. The call rate for Bangladesh is $.10 per minutes. Therefore you'll be able to call a Bangladeshi number and talk 1 minute using the free credit.
You can find the calling rate in this link:  Call Rate of Google Voice
You can deposit money using credit cards. Anyway, this will be a very good news for people whose relatives live in USA or Canada – Enjoy unlimited free calls.