Most of the Bangladeshi website are hosted either at USA or at UK servers. There are many reasons for that. Those web servers are secured, fast, reliable and can handle much traffic and process load. Besides, those are powered by high speed internet connection yet at lower price than anywhere else. Those hosting service providers are experienced and technologically far ahead. Probably this is the reason why everybody prefers USA or UK servers.
Since the demand for web services are growing day by day, it is becoming an important issue to ensure data security and privacy. Think of a government site where it will consists of data which is confidential. Hosting such sites in other country's web servers will definitely be a catastrophic decision. Fortunately in Bangladesh, the government sites are hosted locally (at BTCL web servers).

Now that web services and E-commerce sites are becoming popular the importance of where these are hosted – becoming an important thing to consider. In many cases the target user group of these sites are solely Bangladeshi users residing in Bangladesh (e.g. bdjobs.com). Hosting these types of websites locally will not only ensure confidentiality and security but also maximum up time for the local users. How? We have seen our national pride the submarine cable snatched a lot of time. We are disconnected from the sites that are hosted at USA or UK servers. Instead, if the sites are hosted locally these will still be available for the Bangladeshi residence although the submarine cable is down. That's because locally hosted servers will still be available and the DNS servers will still be able to point us to the locally hosted sites. It will actually act like an intranet service inside the whole country. Besides these, if the sites which provide download services like mp3 download, Drama download etc, are hosted locally, a huge amount of bandwidth pressure on the submarine cable will decrease resulting more bandwidth available for other usage.
I remember when I used Sirius Broadband they used to provide users an intranet site/server from where the users were able to download movies, mp3s, natoks, softwares, videos etc. Normally if that service wasn't there the users would download those from other sources using internet. But the above intranet server could save Sirius Broadband precious bandwidth by restricting users by diverting them to intranet server.
Now If we consider the Bangladesh Submarine Cable Company Limited to be the national ISP, they will be able to save bandwidth if the sites are hosted locally since the traffic requests and sources are both running locally. It will somewhat act as what Sirius Broadband did.
Now let's focus on what are the hurdles. The bandwidth cost in Bangladesh is too high to run an web server smoothly. Although the above procedure will hardly use the submarine cable bandwidth the ISPs have to pay to BSCCL (Bangladesh Submarine Cable Company Limited) since BSCCL acts as an Internet Exchange (HUB). I am not sure about whether govt has given the charge to any other company to maintain the Internet exchange through which all the ISPs and other companies willing to have local web servers will be interconnected among themselves in the same way the telecom companies are connected. Rather than buying only Submarine cable bandwidth they will be buying local bandwidth through which one ISPs will be able to transfer information with websites hosted at other ISPs end. Submarine cable connectivity will still be required since website browsing request can still be generated from outside the country. For example, the trace route from http://visualroute.visualware.com in the following image.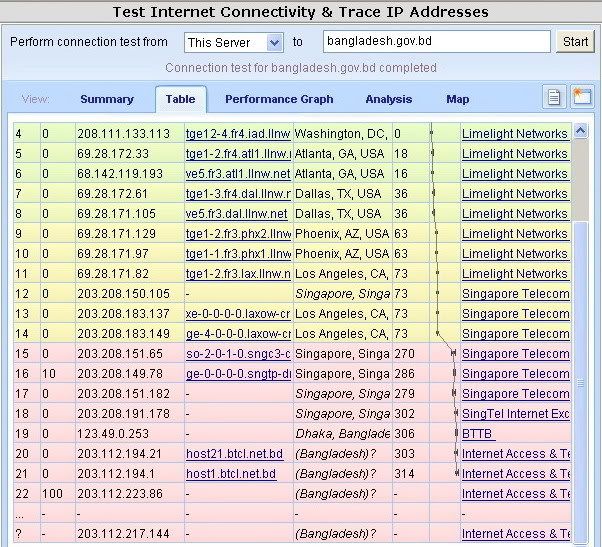 It is like the telecom industry. All the local and NWD calls are generated and terminated at the telecom operators end except for ISD calls. Only ISD calls require outbound bandwidth to connect with telephones in other countries. All the local and NWD calls are routed through multiexchange servers through which all the telecom operators are interconnected among themselves. Only for ISD outgoing/incoming calls these operators depends upon BTTB which has the only connectivity with international exchanges.
There fore local bandwidth is to feed requests from Bangladesh and submarine cable bandwidth to feed requests from outside the country. The local bandwidth should be in negligible cost. Thus people will be encouraged to host websites in local servers. Moreover this will ensure maximum uptime causing maximum exposure for e-commerce sites. This is the way how the e-commerce culture in Bangladesh can really emerge.
I am not sure whether this methodology has already been established or not, but this really can be a boom. Many companies will come forward with an intension to have a website or web based online operation system. This will not only automate and increase the total output but also will create opportunity for web developers and software firms.
Disclaimer: The above statements are sort of top view of a system and I really can't dig any deep because of my knowledge limitation. It is possible that the system has already been deployed and I am unaware of it. Constructive replies will be encouraged pointing out whether I was wrong in any point or if the recommended system is not deployable at all.